Screens is an addon for RS Production OEE and/or RS Production ACT.
A revolution for fact-based working methods
RS Production Screens gives you the right information at the right time in the right user interface. It drives faster reactions and reduced production losses.
RS Production Screens is a digital tool for creating participation and ownership by getting employees in different roles to work fact-based based on common current situation and problem images.
Without writing any code, you build your own real-time visualizations and report pages with a large selection of ready-made graphic components. This allows you to avoid expensive consulting costs and long lead times in future adjustments of visualizations.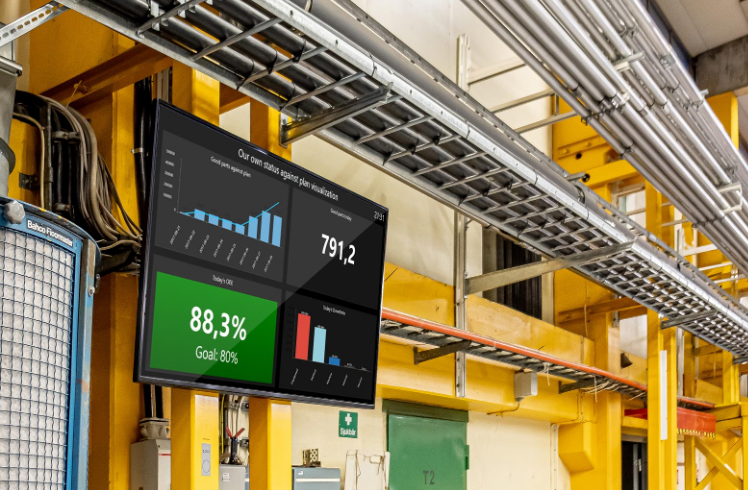 With RS Production Screens, you can drive the right behaviors and decisions by showing the right information to the right person at the right time in the right user interface. It can be TV screens, e-mail, operator terminals or RS Productions' built-in report and analysis tools.
In an ever-changing world, reports and visualizations need to be constantly adjusted to remain relevant. In the easy-to-use interface in Office tools, you create, preview and publish the visualizations with a click-based configuration. This means that you provide the production organization with real-time updated decision material without writing a single line of program code.
And you adjust and adapt visualizations and reports on an ongoing basis without the need for help from product experts or external consultants.
Features
Put together and maintain your own visual report pages without coding.

Report pages can be shown on

TV-screens (user interface Info Screens)

In Operator tools

In Office tools' report and analysis tool
Drag and drop standard components to show
Current status

Production outcome

OEE and losses
Standard visual Screens components
The different RS Production products and addons add their own Screens components.
Go here to read a Summary of screens components
User guide
Go here for RS Production Screens user guide