With RS Production Mobile, you can keep a continual check on outcomes and deviations in production.
Because RS Production's messaging system is also available in Mobile, employees can converse directly with each other, allowing them to solve ongoing problems more quickly. Furthermore, all messaging dialogues are traceable, so that a better understanding of what actually happened can be gained afterwards.
See RS Production Mobile user guide for more details.
Downtime coding in any smartphone
Categorise losses directly in your smartphone.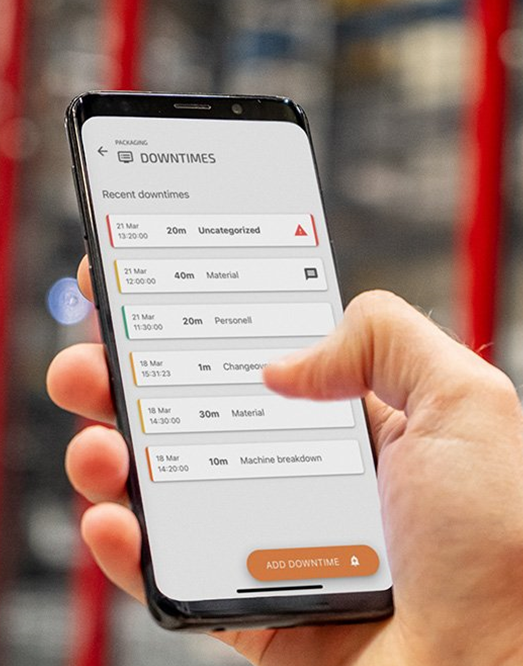 Control and overview with the right information to the right person at the right time
When the right information reaches the right person at the right time, reaction times and action times will be shortened.
For production management, the constant access to fresh information provides a secure sense of control and overview that reduces stress and uncertainty. It frees up operational time that can instead be used for strategic work.
Features
RS Production Mobile is Visual Management directly on the phone.
Because RS Production works via central servers, you have access to fresh information directly from the factory even when you are not on site or booked outside the factory floor.
With RS Production Mobile, production staff, support resources and management quickly gain access to relevant information about events and deviations in production. This gives you the opportunity to react faster and ensure an efficient production flow.
Follow production results on shifts and orders / items in real time

Receive push notification on your mobile

Listen to messages in message channels (including Andon and Alarm Scaling)

Send messages, comments and interact with other employees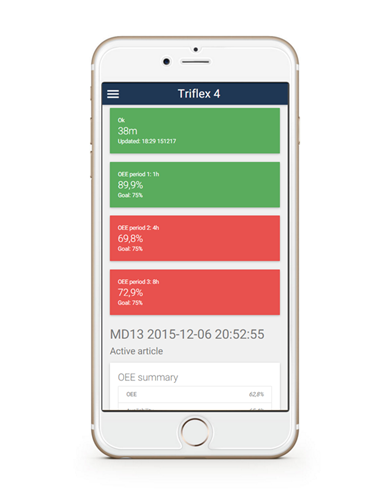 User accounts
As long as RS Production Mobile is used to view production outcome and losses, one or more users can share the same user account.
Named accounts to empower the Andon addon
When you use RS Production Mobile to together with the Andon addon you need to have named (individual) accounts as it opens up the possibility to send individual messages to people.
User guide
Go here to see how it works, RS Production Mobile user guide.